Inbound and Outbound Logistics Process
Inbound and outbound logistics are two terms that get thrown around a lot in the logistics industry.
Many people don't realize these are so much more than industry buzzwords. If either process fails, your supply chain cannot operate at its full potential.
Let's get into inbound and outbound logistics, why they matter, and what your team can do to improve each process.
What is Inbound Logistics?
Inbound logistics is one of the most important processes in supply chain management and is one you can't afford mistakes. Inbound and outbound logistics directly impact each other. Thus, when one stalls, the other also suffers.
Inbound logistics is when raw materials or finished products are moved from a supplier to a business. Inbound logistics is all about getting essential materials to clients that use them to satisfy their customer demands.
An example of inbound logistics would be a car parts manufacturer sending out completed parts to car manufacturers, retailers, or distributors. Either way, parts in inbound logistics provide a means to an end in the industries they serve. Raw materials alone aren't a complete product. The speed and efficiency of your supply chain directly affect the success of the businesses you work with.
How can Inbound Logistics Improve?
Perfecting your inbound logistics can be hard work but will help your brand pivot during times when supply chains need to adjust quickly to succeed.
Some of the ways your can improve inbound logistics and grease the production of a supply chain are:
Working with suppliers to get to know their processes.  This helps avoid hidden costs, improve visibility and helps you gain the best rate for each shipment you receive
Implement shipping tracking notifications that help you keep track of where your shipment is every step of the journey
Partner up with an experienced logistics team that can help you analyze data and give you the tools you need to respond to shifts in demand and improve the efficiency of your inbound logistics process
What is Outbound Logistics?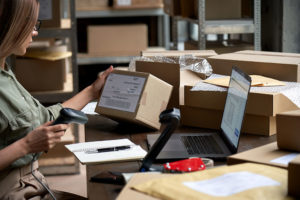 When a customer places an order with your business, this is where outbound logistics come into play. Outbound logistics are the culmination of your shipping process and include important elements like:
Efficient order processing
Picking and packing products
Scheduling shipping
Outbound logistics is the most customer-centric part of your operation and should always be treated as so. Failure to do so will result in backorders, late deliveries, unhappy customers, and a ruined reputation.
GFS Logistics Can Help
GFS Logistics can help you make your outbound logistics a smooth process.  We use our WMS to ensure your products are effectively organized and easy to pick when the time comes. Our relationships with air, land and sea shippers help you find the best routes and prices for each delivery. Our experience helps your outbound logistics team adjust its processes, move quickly, and ensure that every article is packed and prepped for timely delivery.  We have the advanced technology you need to track every shipment as it makes its way to its final destination.
Perfect your Logistics Processes
Don't let poor inbound and outbound logistics hold your business back from success. Reach out to GFS Logistics today to get our experience on your side. We can help you keep both processes in sync and ensure efficient operations that satisfy yours and your customer's needs.
Contact us today to schedule our services for your business.